It's that time of year again, and we have a new Girl of the Year! GOTY 2017 is Gabriela McBride. Gabriela is an African American doll, which excites us since AG has not had a doll of color be the Girl of the Year since Kanani in 2011. Gabriela is a dancer, which we were not too happy to hear. Don't get me wrong, we love cute dance outfits, but it has only been two years since the last GOTY dancer (Isabelle in 2014). But there is a new twist on Gabriella - she is a poet and has a stutter. I think this is great since there has not been a doll like that before, so at least she is unique in that aspect.
Gabriela Doll and Book
The Gabriela doll retails for $115 and has dark skin, curly brown hair, and brown eyes. Her meet outfit includes a purple cropped top with three-quarter length sleeves and a dream graphic layered over a teal tank top, skinny jeans, purple and blue sneakers, and a pink double headband.
We like the color scheme of this outfit, but it is just kind of plain and not eye-catching.
Gabriela's Accessories
Gabriela's Accessories retail for $28 and include a colorful bag with a boombox graphic, a blue water bottle with a green heart image on it, a green apple, a bag of energy mix, 8 hair ties,10 bobby pins, and a sheet of band aid stickers.
Out of all of the items in Gabriela's collection, I think this one is our favorite. The bag is so cute and colorful. It reminds me of something Julie might use! This set is very different from traditional accessory sets, as this one could almost be split and advertised as Gabriela's Lunchbox and Gabriela's Hairstyling Set.
Gabriela's PJs
Gabriela's PJs retail for $24 and include a light blue tank top with an Imagine Dream Create graphic, darker blue capri pants, and light blue slippers.
Again, we love the colors in this outfit, but it is kind of plain. There is no decorative stitching or other aspect on the pants or slippers and only a graphic on a plain tank top.
Gabriela's Cat
Gabriela's Cat (named Maya) retails for$22 and has a soft, furry body and embroidered eyes and mouth.
Gabriela's Creative Studio Set
Gabriela's Creative Studio Set retails for $58 and includes a double sided backdrop depicting a studio and a mural, a reversible cardboard sign, a blue dance barre, a yellow towel with an embroidered heart on it, and a water bottle similar in style to the one included in her accessories.
At $58, I think this set is priced fairly reasonably considering that Isabelle's Dance Barre was $68. We really like the bright blue color of the barre and the decorative double-arched metal underneath the lower barre. We also think the water bottle is cute, even though it is similar to the one in Gabriela's Accessories. The backdrop of the studio is so detailed with the scene out the window and the mirror! We would definitely consider adding this to our collection if we had room for it.
Gabriela's Rehearsal Outfit
Gabriela's Rehearsal Outfit retails for $28 and includes a black short sleeved leotard, a white mesh tank top with heart graphic, purple patterned shorts, pink leggings, and gray ballet shoes.
We are not big fans of this outfit. I really like the black leotard with its bow accent on the back - I would totally buy it separately if it were a mix and match piece! However, we don't really like the mesh tank top or ruffled shorts.
Gabriela's Sparkling Sequins Outfit
Gabriela's Sparkling Sequins Outfit retails for $32 and includes a purple and silver sequined tank top, black capris with silver trim, silver fingerless gloves, silver sparkly flats, and a silver headband.
This is a pretty cute outfit. We like the black capris with the silver trim down the sides a lot, however we don't see it being added to our collection.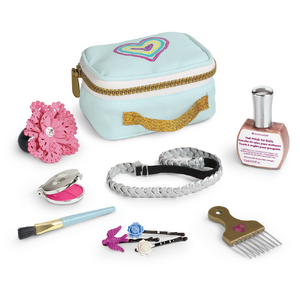 Gabriela's Showtime Kit
Gabriela's Showtime Kit retails for $34 an includes a zip-up case with heart graphic, a compact, a blue makeup brush, a gold hair pick, a braided metallic headband, a pink flower hairband, 3 bobby pins with decorative roses and bird on the ends, and functional metallic nail polish.
This set comes with a lot of pieces! We really like the added detail on the bobby pin and the hairpick will definitely be useful in keeping Gabriela's curls nice and neat. The nail polish in this set is so cool! It is a metallic shade that can actually be used on a doll and it washes off with water. I wonder if this will be included in future Truly Me sets...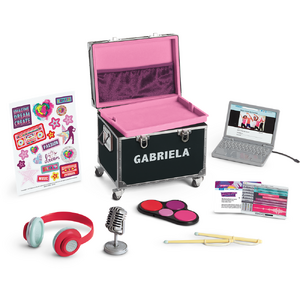 Gabriela's Performance Case
Gabriela's Performance Case retails for $48 and includes a wheeled black case emblazoned with Gabriela's name, a laptop with cord to attach to her microphone and drum pad, 3 reversible screens to put in the laptop, a pair of red headphones, a microphone, a drum pad, 2 drumsticks, and stickers to decorate the case with.
This set also seems fairly low priced for all that it includes - we were honestly expecting it to be much more.
We really like the headphones and the drum pad is cool too. I think the cord that attaches the laptop to the microphone and drum pad is a great feature that adds a lot of play value.
Gabriela's Tap Shoes
Gabriela's tap shoes retail for $16 and include a pair of silver sparkly tap shoes with purple bows.
These are cute shoes! Elastic on the straps will make them very easy to put on a doll. The sparkles and purple bows tie them in with other items in Gabriela's collection so they will match many of the outfits.
Overall, Gabriela's collection includes many cute items but is very small compared to many previous Girl of the Year collections. The sets in her collection are very similar to Marisol's collection, although her dance barre does set it apart. Also, Gabriela doesn't have any everyday outfits! She only had pajamas and dance costumes. Hopefully we will see more items in future releases!